Bus Tours from Active Minds
PLEASE NOTE: We are not currently offering bus tours. At this time, we are not sure when/if these will resume.
The tours listed below are examples. Not all tours/topics are available at any given time. Please ask us for current available bus tours.
Art, Denver Style
Come see the inspirational, fanciful and just plain odd as we tour Denver's world of art with Active Minds. Starting with the Arts District on Santa Fe, we'll see some of the outdoor art that pleases the eye, some out in the open, and some hidden away! Outside the sacred halls of art that compose the Denver Art Museum, outside the old garages turned galleries, we'll learn about how it's done Denver style. It's art, of course, so come with an open mind and a camera if you like.
Bad Boys & Bawdy Girls
If you are looking for the tales of well-mannered gentleman and swooning ladies with rose-scented handkerchiefs, this isn't it. Denver's earliest tales were almost never written by gentlemen, and polite company doesn't even discuss those kinds of ladies. Fortunately, we do. Rope burn and lead poisoning helped Denver fill its coffers and its coffins. The shady ladies and killer cowboys are gone, so let's dig into their stories in safety!
Beer, Beautiful Beer
"Beer is proof that God loves us and wants us to be happy," said Benjamin Franklin. Though Mr. Franklin never made it to Colorado, the heady libation he so extolled certainly did, and in a big way! It is no exaggeration to say that beer built the state as much as gold ever did, even as some were accusing the frothy drink of tearing the state down again. Join Active Minds for a look at the golden glasses once drunk more frequently than water and learn how beer changed our future forever. Breweries lost and others long working, we'll explore it all.
Bound for Boulder!
Boulder is a dynamic city known across the nation for many things, including its great university, terrific views, and a culture that has earned it the nickname the "People's Republic of Boulder." Join Active Minds as we dive into the history and charm of Boulder. We will visit Mork's house from the famed late 70's sitcom that gave Robin Williams his big break as well as other notable sites that you may not have even known were there.
Broadway Bound!
New York may have the most famous Broadway, but Denver's has a lot to offer. From its humble beginnings in a neighborhood to the north, through its grandeur and history downtown, to its steady march through the cities to the south, Broadway has it all. Join Active Minds as we see its riches, explore its history, and hear the seldom heard stories that make it great. It's the best show on Broadway!
Candyland Tour
Join Active Minds as we discover that there are more to sweets than chocolate. We'll visit multiple destinations—each time is different! We might visit Hammond's Candies or Rocket Fizz and then sample some bakeries, spice shops and other spots to tempt your palette. More gastronomy than history, this tour will fill your senses with delight. Be sure to bring money to spend in the sweet stops along the way!
Colfax Tour
Take a bus tour of Denver's famous Colfax Avenue. On this tour you will learn about the evolution of this avenue from neighborhood street to its designation as US Highway 40. Each city along the route has something to share about the rich history of Colfax. Lakewood retains many of the motor hotels servicing auto traffic from the early to mid 20th century. Denver's portion has gone through many incarnations as well, including its seedier elements. Learn about the city's efforts to improve Colfax's image along major stretches of the avenue. Continue along into Aurora to see the major redevelopments occurring at the old Fitzsimons Hospital. Colfax is a microcosm of Denver society and this tour will help us learn about ourselves. Come join the fun!
Colorado Views Tour
This tour shows you the breathtaking views of the Front Range and the downtown Denver skyline from various vantage points around the city, with some history along the way to make sure it's educational. There are some secret views you might not yet know and ones you'll want to come back to in the future. Some short walking (less than half a block) may be required. This tour can be customized to include different areas, including going into the mountains.
Compass Tour—Denver Northeast
Get out your compasses! We're going to find the interesting stories, hidden corners and rare gems that make northeast Denver great! Did you know that City Park used to close its gates nightly to keep lovers from strolling and that the zoo came into being because of a pet bear? We'll explore the old as well as the new and see how things have changed through the years. Offered by Active Minds, there's more to this corner of Denver than you know.
Compass Tour—Denver Northwest
Get out your compasses! We're going to find the interesting stories, hidden corners and rare gems that make northwest Denver great! We will discover Larimer's second city, an accidental lake, the heart of Little Italy, a pastor who twisted a viaduct, beginning of St Patrick's Day Parade, and long gone amusement venues. Offered by Active Minds, there's more to this corner of Denver than you know.
Compass Tour—Denver Southeast
Get out your compasses! We're going to find the interesting stories, hidden corners and rare gems that make southeast Denver great! Houses were numbered early in this part of the city, at least up to twenty. You'll learn how Washington Park was once Denver's premier watering hole and that public transportation can also be art! Is this the Left Bank? Offered by Active Minds, there's more to this corner of Denver than you know.
Compass Tour—Denver Southwest
Get out your compasses! We're going to find the interesting stories, hidden corners and rare gems that make southwest Denver great! High places have always attracted the holy, and this part of Denver offered a great view of the mountains in addition to proximity to the divine. Military tales, Denver's Ivy League and the palaces of summer are just some of the items you'll get to see. Offered by Active Minds, there's more to this corner of Denver than you know.
Dam It!
When the first Americans reached the area that would one day become Denver, they saw nothing that even remotely reminded them of the great rivers of the eastern United States. Mark Twain disparagingly stated that the folks in Denver should lock up the South Platte River each night lest some thirsty puppy come and drink it dry. Yet over the years there have been numerous times when these much maligned creeks and rivers rose to great heights, literally. Join Active Minds for a lesson on the city's efforts to control the power of rushing water, sometimes well and sometimes with disastrous results. No cussing required!
Denver Architecture Tour
Presented by Active Minds, this tour is for folks who have an eye for architecture, or those who would like to! We'll look at the various decades in Denver's architecture, showing you the lovelies and perhaps not-so-lovelies. Much of Denver's Victorian heritage was torn down during urban renewal, but there are pieces left to be found. Fancy some Art Deco? We've got it! How about some Brutalist, Post-Modern, International Style, or Richardsonian Romanesque? Confused? We'll clear it up as best we can, and along the way you'll have an architectural smorgasbord. Join us for the Denver Architecture Tour!
Denver Divinity Tour
Not every Denver pioneer was out here to strike it rich on gold. Some came to save souls and find riches in generosity, good works and ministry. Presented by Active Minds, this tour will show you Denver's houses of worship from many different religions and denominations. Through this architectural journey, participants will also learn about the growth of Denver and hear a few stories that have linked the people of Denver with their faiths. Denver has more historic buildings devoted to religion that you might realize, and we seek them out in the hidden corners of the city that you may never have happened by before.
Denver's Frontier Days
Remember how your grandparents had to walk three miles in the snow, uphill, both ways, to get to school? And that was after they had milked the cows, mended the clothes, fed the chickens, and split the wood to make kindling. Well, now you may have a taste of the life they led, and maybe find out it wasn't all that bad in some ways! Presented by Active Minds, this tour will take you back in time and show you some of Denver's historic legacies. Depending on the season, tour may include places like the Four-Mile House, the Littleton Historic Museum and sites within the foothills. Guides will demonstrate the raw truth of these frontier days, and you'll be able to conclude whether or not the folks from Denver's first days were living lucky or not! Join us, pardner!
Denver Infill Tour
Infill is the process of taking an empty spot within a city and using it, or redeveloping a building or lot that has outlived its use. Join us for a blend of Denver's past, present and future. You'll see how many of Denver's beautiful buildings of the past are being reborn in new and useful ways, and learn about how those endless oceans of surface lots are drying up and disappearing as well.
Denver Orientation Tour
Think you know the city of Denver? Think again! This tour looks at the city from beginning to present, telling you many tales, contrasting the past with the present, and the plans for the future. We'll tell the fiascos and the follies, the romance and the rumors and more! You'll hear some things that you knew, and some things that you didn't and some things that you had never imagined!
First Families Tour
The hallways they walked still stand in many corners of the city and their stories echo through Denver's history. They are the families that made Denver great. The Byers, the Evans, the Cheesmans, the Tabors, the Moffats, the Boettchers and many others had a vision for what a lonely outpost on the high plains could become. Though some might argue with their methods and their morals, they left indelible marks. Offered by Active Minds, we'll see some of the legacies they left behind. Some of them might surprise you.
Food, Glorious Food
Most of our tours focus on history and the like, and we take a break for some food. Well, this tour is about the food itself! Join Active Minds as we examine some of the history of how Denver got food to the table...and continues to do so! We will visit some specialty shops, where hard-to-find and unusual items will appeal to diverse palates. We will also stop for some fine dining, exploring the full world rather than just the basics of Americana. Even Alfred Packer would approve!
Fortunes in Fort Collins
Ranked one of the best places to live in the United States more than once, Fort Collins has a rich history and much more to offer than its beautiful campus. From its thoroughly walkable Old Town to the fantastic view of the city from the drive along Horsetooth Reservoir, we'll explore this beautiful city at the northern end of the Front Range. Join Active Minds for a trek north and back through time to this not-so-hidden gem on the Cache La Poudre.
From Airport and Army to Neighborhood: a Tour of Stapleton, Lowry and Fitzsimons
Stapleton, Lowry and Fitzsimons are three names that used to mean something very different to the people of Denver. Stapleton the airport moved the public from here to there. Lowry was not open to the public--a place where the military conducted its business as an air force base. Fitzsimons was an army medical center. All three have been redeveloped as modern neighborhoods, but here and there signs of the old functions can still be seen. Presented by Active Minds, this tour shows you how these three dynamos of Denver have been reborn as something else entirely, showing you their past, their present and their future. If you haven't had a drive through recently, you won't believe your eyes!
Golden Glories
Join Active Minds for a look at the city that could have been Colorado's capital, Golden. There are numerous things to learn on this orientation tour of our historic neighbor nestled at the base of the Rocky Mountains. There's more to Golden than you might realize, with gems hidden in the nearby foothills as well. Though the honor of capital would not go to Golden in the end, it is a city that takes great pride in its history and modern livability. Prepare to be dazzled by Golden.
Great Greeley Tour
Greeley was founded as a Utopian ideal on the high, pure plains of the world, where the literal elevation would translate into elevated mores, elevated minds. Well, it didn't quite work out that way, but Greeley still offers a lot to lift one's mood. Join us on this tour of some forgotten gems in this city just off the beaten path. From the city's outdoor pedestrian mall and slices of German heritage to its museums highlighting the pioneer west, with a nod to the smell of cows, we'll give you a new appreciation for this excellent city. By the end of the tour you might end up thinking that a bit of Utopia was achieved after all!
Haunted Denver Tour
This tour includes a drive through many of Denver's most beautiful older neighborhoods where guests will view some of Denver's architectural wonders-both residential and otherwise. This backdrop will help to further explore the characters and events that have resulted in some of the city's best known ghost stories. Guests will learn about the imposing Lumber Baron Inn Bed and Breakfast, the ghost of Denver's influential Madam Mattie Silks, Sassy Springer and her lovers, the ghosts of Capitol Hill and its mansions, and more. And although guests on this tour will be unable to visit Denver's famous Red Rocks Park, they will hear the tales of the city's most notorious ghoul, the Hatchet Lady of Red Rocks-still rumored to terrorize the park to this day.
Holiday Lights Tour
Come see the glittering lights and the fanciful sights on this bus tour of the holiday season offerings around Denver. We'll head to the City and County Building in downtown Denver, into neighborhoods and into slices of color around the city to entertain your eye. Each year is different, based on our critical reconnaissance. There will be a stop for hot chocolate and snacks! Come along and let us put the holiday twinkle in your eye on this tour of the holiday lights of Denver!
Hot Chocolate Tour
What could be better for the soul than tempting one's taste buds? Offered by Active Minds, this tour shows you some secret sweet spots you might not know about, as well as one or two you do. Breathe in the aroma, don't be shy. And make sure you get some hot chocolate!
Immigrants: Building Denver from the Bottomlands Up
The Americans who crossed the prairies in search of gold and founded Denver in 1858 were not the last wave of immigrants to come to the Queen City of the Plains in search of the glitter of a better life. Successive waves of immigrants from all over the world have made significant marks on the city, giving it some of its most noted buildings and richest flavors. Once segregated from the rest of the city, many have since integrated into the tapestry of Denver while others yet remain distinct. Come hear the tales of triumph, conflict, racism, redemption and more. Presented by Active Minds, this tour highlights the remarkable contributions of many of our ancestors, some of which are so taken for granted today as to be virtually invisible. Now THAT'S a spicy meatball!
Lost Cities of Denver Tour
You've heard of Westminster, Littleton and Aurora, some of the suburbs surrounding the great city of Denver. When traveling around the country, however, it's best just to say Denver! How about Glendale and Sheridan? Perhaps yes, perhaps no? How about Mountain View and Edgewater? And did you know that Lakeside Amusement Park is its own city, complete with a mayor and police force? Long before the large suburbs such as Lakewood sprang up, there were smaller towns surrounding Denver, often created to avoid the evils of decadent Denver. It's time to tour these forgotten cities, lost worlds surrounded and swallowed up by the cities we know today. There's more there than you might think! Join Active Minds for this fascinating look into some slices of municipal past.
Loveland Arts Tour
In 1985, Loveland became the first city in the state to set aside money for art in public places. Now valued at more than six million dollars, Loveland's wide array of outdoor art includes more than 250 pieces. Presented by Active Minds, this tour showcases a wide sampling of the city's art, whether inspiring, controversial, beautiful or just plain old strange. We will get off the bus and walk around to experience some of the outdoor art and/or the indoor art, depending on the weather.
Newport of the Rockies: the Luxury of Colorado Springs
Gold wasn't the only thing that brought people to Colorado. The beautiful scenery and pure air were golden possibilities to those who saw the Front Range as potential playground for the rich and famous. The resplendent Broadmoor Hotel was built to be the centerpiece of Colorado Springs, branded the "Newport of the Rockies," after that elite locale back in the civilized east. Presented by Active Minds, this tour shares the history of this fascinating town. We'll see the Broadmoor and other addresses that still impress. From the vertical beauty of the Garden of the Gods and the Air Force Academy Chapel to Pikes Peak towering over it all, won't you join us for a luxurious day?
Streetcar Neighborhoods Tour
Once upon a time Denver had the second largest streetcar system in the nation. The streetcar linked the city to the hinterland, allowing folks to begin their suburban dreams, and brought generations of workers, revelers and everyone else downtown to pursue their various purposes. It was all here: horse drawn, electric and cable. The early electric system had a tendency to shock people and horses that walked on the track in wet weather, but it still brought the city of Denver together. Presented by Active Minds, this tour will show you where the lines ran, how the neighborhoods they served were changed by their presence, and how whole cities were able to exist because of them. The streetcars are no more, but the signs of their presence remain. As Denver spends billions to put them back, our modern light rail trains, it's time to pay homage to the trolleys of the past! All aboard!
Suburbs Northwest
The suburbs of Arvada and Westminster, to the northwest of Denver, have much to offer, from history and art to food and tales about trees. As Arvada prepares to ride the rails of the Gold Line, the RTD FasTracks expansion, into the future, join Active Minds for a lesson in all these cities are and have been in the past. You might be surprised, so let's skew the compass a little off north and make it a day!
Suburbs Southeast
Rising like the sun to the east of Denver are cities moving without hesitation into the future. Their histories are diverse, with tales of heroism and tragedy, the Wild West blending into the modern as the cities reinvent themselves around us. Aurora, Parker, Centennial and more, join Active Minds as we explore this area growing rapidly away from the bustle of downtown. There is far more than you might think, if you have someone there to show you where to look! That's why we're here, so join us for trip eastward, where the horizon beckons with promise.
There's Nothing Little about Littleton
When Denver became a city and county, the title of county seat passed to a smaller city to the south, Littleton. This was not Littleton's first moment in the spotlight, however. Long heralded as the 'lily of the valley,' especially as compared with its decadent and troubled neighbors, Denver and Englewood, the city of Littleton has treasures of history, architecture, transportation and more. Alfred Packer, in one piece, went to his grave in Littleton. Seat of government, entertainment and history, please join us for our tour of the excellent city of Littleton.
Valentines Tour
Join Active Minds for a Denver tour of love, romance, and sweets. We will visit the sites and hear the stories of some of Denver's most romantic historic places as well as some spots that specialize in the candy part of the Valentine tradition. We may have the opportunity to get off the bus and sample or buy some sweets, so bring a little spending money if this appeals to you. All attendees will receive a sample of Mamie Eisenhower's famous Million Dollar Fudge, along with the recipe!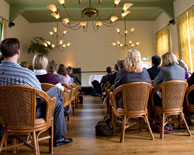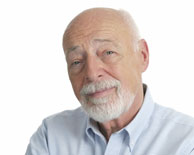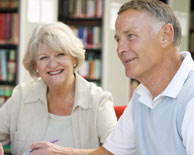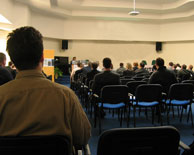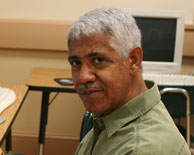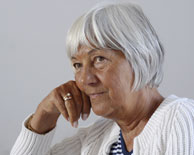 Copyright © 2004-2022 Active Minds®. All rights reserved.