Marketing/Sponsorship Opportunities
Active Minds welcomes partnerships with organizations that share our passion for lifelong learning and wish to be associated with our efforts. Available programs include:
Event Sponsorship
Sponsor Active Minds programming at venues that are not typically available for promotional opportunities. This includes:
Opportunity to talk with participants at event and distribute literature.
Formal recognition of sponsorship by instructor at event.
Acknowledgement and hyperlink to sponsor site on event listing on Active Minds website calendar and e-newsletter.
Click here to see a list of sponsorable events.
Cost: $100 for most basic event sponsorships.
E-Newsletter Listing
Reach thousands of lifelong learners with your unique message in the Active Minds upcoming events newsletter. This includes:
Prominent listing on our e-mail newsletter (sent to over 6,000 every two weeks). Click here to see sample.
Up to 50 words of copy describing what you have to offer or you can promote your own upcoming event (e.g., open house, educational program, or special event).
Cost: $50 each (2 listing minimum).
Website Listing
Communicate your message to visitors to the Active Minds website on the "events" page of our website. This includes:
A hyperlink to your website along with up to 50 words of copy describing what you have to offer. Click here to see samples.
As an alternative, you can use the listing to promote your own upcoming event (e.g., open house, educational program, or special event).
Cost: $100 per month.
Website Link
Increase your visibility with a link to your website on the Active Minds website on the page that most matches your business (e.g., Residential Living, Home Care, Elder Law). This includes:
Four line sponsored link to your site. Click here to see examples. (The Active Minds website currently gets over 50,000 hits per month.)
Automatic inclusion in the Active Minds referral network.
Free additional hyperlink to your site in our "partners" section.
Cost: $100 per quarter for basic listing.
Marketing Event
Reach a different lead and prospect demographic by creating an Active Minds marketing event at your location that focuses on a current issue of importance in the world. This package includes:
Two hour event format, with socializing before and after the program.
One hour program on a compelling topic, presented by an Active Minds instructor.
Customized flier to promote the event.
Active Minds staff is on hand throughout the event.
Customized data capture/evaluations provided.
Documentation and consultation on "best practices" to get the most out of the event.
Basic Promotional Package (see below) included for free.
Optional custom mailing to Active Minds database (see below).
Click here to see summary results data from Marketing Events.
Cost: $400 per event.
Community Event (Basic Promotional Package)
Use your existing Active Minds program as a promotional tool by promoting it to our database and contacts. For each event, this package includes:
Listing on the Active Minds website.
Inclusion on the Active Minds printed schedule.
Inclusion in our monthly press releases and calendar submissions.
Inclusion in our e-mail newsletter of upcoming events.
Hyperlinks to your website included on all electronic listings.
Map links to your address included on all electronic listings.
Cost: $100 per event (in addition to non-discounted program cost).
Mailing to the Active Minds Database
Promote your Active Minds event with a custom mailing to the Active Minds database.
Custom sort by zip code to reach your target geography.
High quality database consisting of all "opt in" sign ups.
Typical show up rate of 8-10%.
Printing, stuffing, and mailing all provided by Active Minds.
Optional inclusion of your brochure at no extra charge.
Cost: $1 per name plus postage. Minimum quantity may apply.
Printed Schedule Sponsorship
Sponsor the Active Minds hard copy schedule mailing that goes out to our database of attendees that do not have e-mail addresses. Details:
Add your message on the first page of our schedule (mailed to over 600). Click here to see sample. Cost: $100.
Add a one page insert of your design to our paper newsletter (mailed to over 600). Cost: $200.
Use of Active Minds Logo/Brand
As an Active Minds partner, you are welcome to use our logo and brand free of charge on your website, print ads, promotional material, or community tours. We simply ask that you let us know when you do this. Please contact Zane Robertson to get the appropriate electronic files to suit your needs. Available material includes:
Active Minds logo.
Active Minds Partner Community icon (see below).
Active Minds static cling window sticker (available by request).
Active Minds brochures, buttons, bumper stickers, tote bags, etc. (available by request).
Cost: Free

Other Information/Statistics:
Our website gets more than 50,000 hits per month. Active Minds partners are listed on the site for free. Click here to see list of partners.
Our database consists of nearly 10,000 seniors still living in their homes. Custom zip sorts and event mailings available upon request.
Our Sponsorship Philosophy is modeled after that of public broadcasting. Our goal is to allow sponsors the opportunity to make information available to seniors who wish to receive it.
All Active Minds partners receive free consultation as to how to best maximize the benefit of their association with the Active Minds brand and database of potential customers.
Feedback:
The Active Minds Marketing Event we held recently was one of our biggest turnouts ever for a "lead-generating" event. We literally had to turn people away. The success of this event was due to many factors, including the strength of the Active Minds database, the thoroughness of their preparation of all facets of the event, and the power of the Active Minds name to draw people in for what they know will be a stimulating and engaging event. As the host, we achieved results we were after – to showcase our community and to advance our relationships with prospective residents and family members. MorningStar of Applewood is pleased to partner with Active Minds, a life enrichment and educational organization viewed as a trusted source of quality and class for seniors throughout the greater Metro Denver area. To top it off we got a deposit for a new move-in right after the event! —Ann O'Neill, Marketing Director, MorningStar of Applewood
My sponsorship of Active Minds has resulted in a number of successful referrals for my business. My company helps families navigate transitions for their aging loved ones. Because Active Minds is such a trusted resource for seniors, our association with them gives us an advantage when families are seeking help. —Joan Therese Seivert, founder of Connections Unlimited, LLC
We host Active Minds events because our residents love the programming and it's a great way to showcase our building to potential residents. Within two weeks of our first event we had someone sign a new lease as a result! Since then we've gotten another move-in from the programming and we're sure it will continue. We're thrilled with our partnership with Active Minds and we are planning a full schedule of events for this year, it is fast becoming an integral part of our community. —Donna Jack, Community Manager, 1375 High Street
One gentleman came up to me and commented that he will always remember the Maxim name for our sponsorship of this Active Minds event. That's what it's all about! —Krisha Perry, Maxim Healthcare Services
My sponsorship of the Active Minds presentation was definitely worthwhile! Anyone working with seniors should sponsor a program. The opportunities to talk with seniors and discover their needs and fears are wonderful. —Ann Roadarmel, Home Real Estate
We just had a couple move in who cited the Active Minds program as a key part of their decision to move here. When they saw the flier on the wall during a tour, they said, "Oh, you have Active Minds here! That's wonderful! We love them." —Troy Dunning, Activity Director, Christian Living Clermont Park
The Active Minds program was responsible for one of our recent move ins. We think the program is a great marketing tool. —Cyndy Walters, Atria Inn at Lakewood
We got a move-in from our very first Active Minds event. Sandy attended a program on Venezuela and at that time had no thoughts of assisted living. Two weeks later, however, she realized that caring for her husband was getting overwhelming and she called us. She moved him in the next month. She never would have known about us if it hadn't been for the Active Minds event she attended here. We love the Active Minds programs and it is helping us connect with our future residents! —Michelle Newitt, Marketing Director, MorningStar Senior Living at Applewood.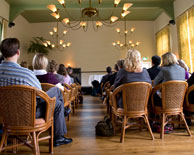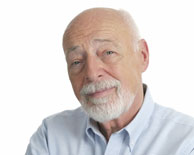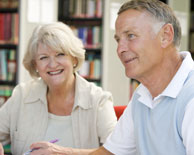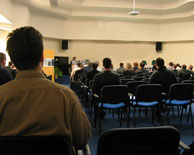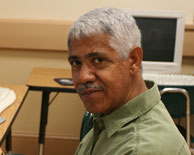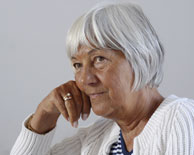 Copyright © 2004-2013 Active Minds®. All rights reserved.